A HUGE thank you to everyone who came to help us on Gardening Day. We were truly overwhelmed by your support and working together we have made such a difference to our outdoor classroom. As we are sure you can see, our Outside Area has been positively transformed into a more inviting learning environment and we wouldn't have been able to do that without you. Doesn't it look amazing? The children have already spent time enjoying the area and love what has been done. Thank you again!
After a few cancellations due to bad weather and incidents in the local area, the Fire Brigade were finally able to visit us on Wednesday 9th May… and it was worth the wait! The Fire Men taught us about their role, how they keep us safe and the uniform they have to wear and best of all, let us try out their water hose on the engine! A huge thank you to the Green Watch Foleshill Fire Team for their very exciting and informative visit.
Using the children's ideas, we created a story map of The Little Red Hen. At home, you could show your child the story map and encourage them to use it to retell the story. Prepare to be amazed!
Since we have been working so hard in Reception to prepare our hearts for Jesus' birthday and with all of our other learning, we were surprised by a special visitor this afternoon.
First, we received a message from the office who gave us some instructions:
"Put on your coat and creep over to the yurt where your surprise is waiting…"
We had a little think about who or what it might be, before creeping over to the yurt as we were told. You won't believe it… Father Christmas made an appearance in Holy Family School!
We were all so excited at the magical experience! Father Christmas spoke to us about the true meaning of Christmas before asking us what was on our list. He even brought us a little gift. It was so special!
A HUGE thank you to Roisin's mummy, Sergeant Kim, for a wonderful afternoon on Thursday. We learnt so much about how the police are there to keep us safe, what to do if we are in trouble and 'stranger danger.' We even had the opportunity to try on the police uniform. It was an unforgettable afternoon!
Remembrance Day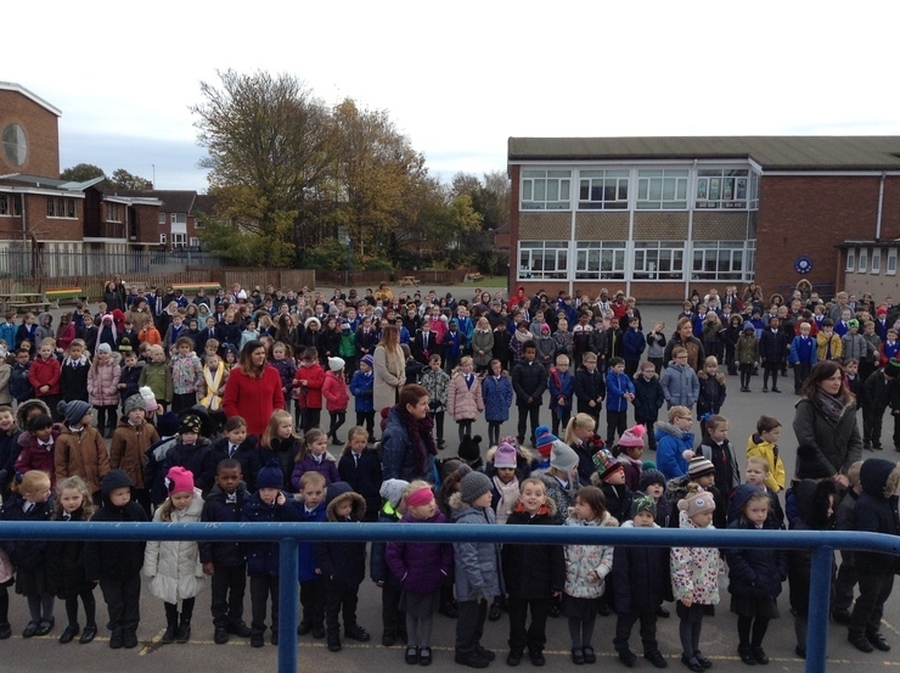 We held a minutes silence today as a mark of respect for all those who have lost their lives in wars and conflicts around the world. We also learnt a poem to help us remember those who lost their lives.
Those who fought for me."
Today was our sponsored Welly Walk. As the glorious autumn sun shone down, we explored the school fields talking together about the changes we could see happening all around us.
We crunched and stomped through the leaves with our friends and our walk ended in our school wildlife area. We toasted giant marshmallows on a bonfire remembering all the things we had learned about staying safe.
We made some wonderful memories together today.
A big thank you to our families and friends who have generously helped us to raise lots of money. You have all been so very kind. We are going to use this money choose some lovely new learning resources for our outdoor classroom. We are going to hold a reception vote to decide what to buy.
Today we visited our church, Holy Family.
We call church 'God's house.'
We talked together about how we use Holy water to bless ourselves as we enter God's house.
As they explored our church with interest and fascination, The children were in awe of its size. They recalled previous learning about the meaning of a cross to us, commenting, "That's for Jesus; he died on there."
The children were encouraged to notice some very special parts of our church; The Altar, The Baptismal font, Statues and figures of The Holy Family and the benches where we sit or kneel to pray.
Finally, we knelt down and said a prayer together thanking God for His love and for creating our wonderful world.
It is Black History month here in Reception. Our learning is based on the story Handa's surprise. In our African themed area we have been learning how to copy repeated rhythms using instruments from Africa. We have observed some traditional African dancing and have had fun dressing in African clothes and copying the dance moves. Looking at picture books, we talked together about the differences between our lives and the lives of African children.
Thank you to Morrisons, Holbrooks for sending us some special gifts. The Reception children LOVED playing with the bubbles on this Autumnal day. What a treat!