Covid Symptoms
Covid Symptoms
14 September 2020 (by Carly Wright (cwright))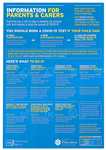 Dear Parents
Please see the attached information poster for parents regarding what is classed as possible covid symptoms for you to look out for.
We all know that children do get coughs and colds and are poorly for other things so we ask you to make a sensible decision regarding sending your child to school. We cannot make that decision for you
, so unless your child has specific covid symptoms you should continue to send them to school.
If they have a temperature, you should NOT send them in and either monitor them for 48hrs and then decide if you need to get them tested or arrange for a test straight away if you are concerned. We will only make the decision if your child develops symptoms whilst in school. In which case we will follow our Local Authority guidelines.